We meet children at their level.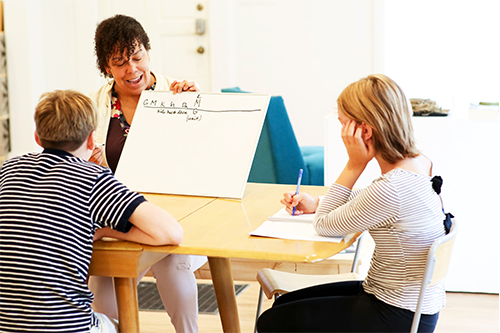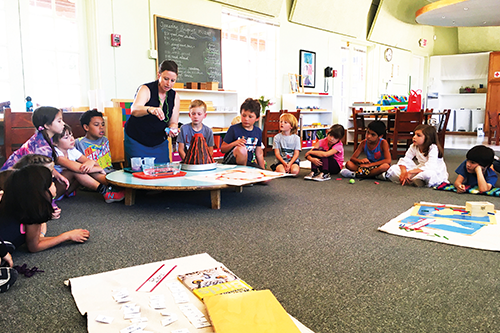 Mr. Ben Tobias
Jr. Elementary East
A Houston native, Mr. Ben began working at Escuela in 2015. He received a BA from UNM and is currently earning Elementary I Montessori credentials. Assistant teacher in Junior El East, Ben is drawn to Montessori for the presentation of materials and tactile nature.
Mr. Stephen Lopez
Primary - White Room
Mr. Stephen started working in Escuela's Primary Extended Care program in 2012, before becoming an assistant teacher in the White Room. He grew up in Albuquerque, attending Montessori of the Rio Grande as a toddler.  Stephen loves Montessori because every day he sees and experiences wonder and pride in this community.
Ms. Aliyah Farooki-Qidwai
Primary - Blue Room
A Montessori student herself (Primary through Junior High), Ms. Aliyah joined Escuela in 2016 as assistant guide in the Primary Blue Room.  Growing up in Toledo, Ohio, she received her M.ED in Montessori Education and AMS Elementary I (6-9) credentials from Xavier University.   She completed her Primary training at MECR in 2017.  Aliyah loves Montessori because it just makes sense to follow the child's needs and interests!
Ms. Christy Cook
Elementary & Jr. High Art
Ms. Christy was a student of Waldorf and later public education in a small town near Ashland, Oregon. Our Elementary Art teacher since 2014, she received her BA in Romance Languages with an art minor at the University of Oregon, and is finishing her MA in Art Education at UNM. Christy is drawn to Montessori for its intrinsic motivation. She thinks teaching children to find their own motivation/creativity is paramount to being an artist – or anything else!
Ms. Cristina Sessa
Jr. Elementary West
Ms. Cristina started working at Escuela in 1991. Currently the Junior Elementary West lead teacher, she was raised in the North Valley, received her BA in Education from UNM, and her AMS credentials from the Montessori Teacher Education Center San Francisco Bay Area. Cristina loves Montessori because it deepens one's understanding of the potential of children and their ability to help transform the world around them. This includes respect for each student so that every child feels safe, respected, and important as an individual.
Ms. Domenica Barile
Primary, Elementary & Jr. High Spanish
A native of Venezuela, Ms. Domenica has worked at Escuela since 2017.  She is passionate in sharing her Spanish and Italian culture and language through song, art and cooking.
Ms. Elizabeth Harris
Primary - Red Room
Elizabeth Harris has been a teacher's assistant in Escuela's Primary program since 1986! She grew up in New York, New York, and received a BA in Education from UNM . Montessori gives Elizabeth the opportunity to witness children becoming independent, empathetic, creative-thinking, problem-solving, kind and loving individuals.
Ms. Emily Schuyler
Primary - White Room
White Room guide Emily Schuyler has been at Escuela since 2003.  She grew up in Kearney, Nebraska, received a BFA in Textile Design from the University of Kansas, and earned her AMI Primary credentials from Perugia, Italy.  Ms. Emily believes Montessori education offers real, daily opportunities to create a better world and practice life-long learning. 
Ms. Gretchen Vogelsberg
Primary - Red Room
Ms. Gretchen has been teaching since 1998, joining Escuela in 2006.  She grew up in Brooklyn and Maine, and possesses a BA in Liberal Studies (Montessori concentration) from Endicott College. She has her Infant/Toddler and Primary Montessori certifications.
Ms. Inga Tomlinson
Jr. Elementary East
Ms. Inga, Elementary Program Coordinator and Montessori guide, came to Escuela in 2004.  She grew up in Seattle, possesses an M.Ed from Loyola University, and AMI 6-12 credentials from the Washington Montessori Institute.  Inga loves Montessori for its love of learning, deep study, child advocacy, and imagination of childhood.
Ms. Jolie Guiney Fletcher
Toddler South
Ms. Jolie, Toddler South guide, has been with Escuela since…basically forever! Her mother taught here and she is an alumi. Jolie earned an Associate's in Science, holds a Pharmacy Tech degree, and gained AMS Infant/Toddler certification from the Montessori Teacher Education Center San Francisco Bay Area. She loves the freedom the children and teachers have to grow and foster learning.
Ms. Joy Maranze
Toddler Community
Toddler guide Ms. Joy joined Escuela in 1996. She grew up in Dayton, Ohio, received her M.Ed from Xavier University with a concentration in Montessori (ages 3-6), and earned her Infant/Toddler credentials from the Center for Montessori Teacher Education in New York. Joy loves Montessori because of the focus on the individual child and strong reliance on child development theory.  Ms. Joy also attended law school before she found Montessori, discovering her true passion.
Ms. Juli Kois
Elementary - Garden Guide
Juli Kois has been our Elementary Garden guide since 2010.  Ms. Juli grew up in Virginia Beach, Virginia, and graduated from NMSU with a major in Soil Science. She also attended the Permaculture Drylands Institute and studied primary education at NCME.  Juli is drawn to Montessori because it has a learning structure that compliments permaculture in being based on observations, precision, and humanity.
Ms. Lisa Alessio
Primary - Extended Day
Ms. Lisa, is the Primary Extended Day Montessori guide.  She has been with Escuela since 1988!  Growing up in El Paso and Albuquerque, she received her Infant/Toddler and Primary certifications at the Montessori Education Center of the Rockies (MECR) in Boulder, Colorado.  Ms. Lisa was not a Montessori student herself but loves Montessori because of its philosophy – especially the three-year age grouping
Ms. Lisa Pearl
Primary - Yellow Room
Ms. Lisa has worked at Escuela since 2002.  She is the Primary guide in the Yellow Room.  Lisa grew up on the coast of Maine and earned her Primary credentials at the San Diego Montessori Institute. She loves everything about Montessori.
Ms. Monica Chavez
Toddler North
Monica Chavez, Toddler North guide, grew up in Albuquerque and has been with Escuela since 2005. She received Infant/Toddler certification from The Montessori Education Center of the Rockies (MECR) in Boulder, Colorado.
Ms. Rhian Small
Toddler Extended Day
Rhian Small has officially been with us since 2011 (but began volunteering at Escuela events before that). She grew up and attended Montessori schools (age 3 through 5th grade) in both Maine and New Mexico.  Ms. Rhian holds a BS in Psychology from UNM and is AMI trained (Assistants to Infancy).
Ms. Rita Francois
Toddler North
Rita Francois started working for Escuela as a Toddler teaching assistant in 1999.  She grew up in Italy and received her Associate in Early Childhood from NMSU. Rita loves Montessori because each child can learn at his/her own pace.
Ms. Madeline Foy
Jr. El West
Ms. Madeline grew up in California.  She has her BA from Lewis & Clark College where she majored in English Literature and Art History.  She moved to Albuquerque in 2017 to join Escuela's faculty.
Mr. Casey Mráz
Music Director
Mr. Casey is an educator, composer, musician, playwright, and designer who grew up in Albuquerque, NM.  He earned an M.F.A. in dramatic writing from UNM in 2009, and studied literary arts in Prague, Czech Republic at Charles University.
Casey is also a teaching artist with the Santa Fe Opera's ALTO Program (Active Learning Through Opera) and the Music Director for Circo Latino.  He most recently taught special education at Dolores Gonzales Elementary School.
Lisa Slavik
Jr. High Occupations Teacher & Farm Manager
Joslynn De Herrera
Primary - Blue
Ms. Joslynn is an Albuquerque native who has been active in the Montessori community for over twenty years.   She received her Primary credentials from the Montessori Education Center of the Rockies (MECR).  She joined the Escuela team spring 2018.