We meet children at their level.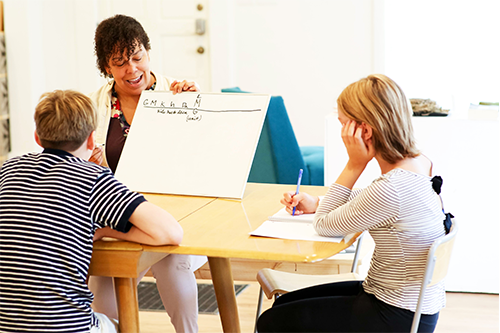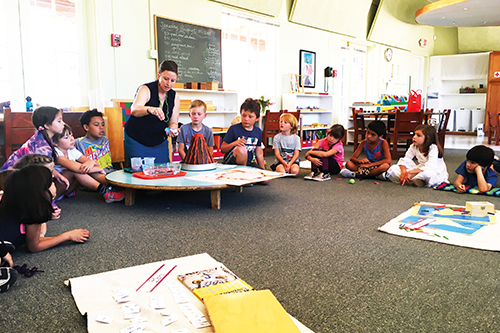 Mr. Ben Tobias
Elementary - Sr. El
A Houston native, Mr. Ben began working at Escuela in 2015. He received a BA from UNM and is currently earning Elementary I Montessori credentials. Assistant teacher in Sr. Elementary, Ben is drawn to Montessori for the presentation of materials and tactile nature.
Ms. Sharayah Williams
Elementary - Jr. El East
Ms. Sharayah is a Midwesterner who stumbled upon Montessori education and Escuela del Sol in 2013, not long after moving to Albuquerque. She fell in love with the child-centered and life-long learning approach. She started as a substitute and worked in the Primary Extended Day program before becoming the assistant guide in Senior Elementary. Ms. Sharayah has a Bachelors in Elementary Education and taught for several years at a public Elementary school in Kansas. Now an assistant in the Junior Elementary, she is currently earning her Elementary 6-12 Montessori credentials at Montessori Institute of San Diego.
Ms. Aliyah Farooki-Qidwai
Primary - Blue Room
A Montessori student herself (Primary through Junior High), Ms. Aliyah joined Escuela in 2016 as assistant guide in the Primary Blue Room.  Growing up in Toledo, Ohio, she received her M.ED in Montessori Education and AMS Elementary I (6-9) credentials from Xavier University.   She completed her Primary training at MECR in 2017.  Aliyah loves Montessori because it just makes sense to follow the child's needs and interests!
Ms. Christy Cook
Elementary & Jr. High Art
Ms. Christy was a student of Waldorf and later public education in a small town near Ashland, Oregon. Our Elementary Art teacher since 2014, she received her BA in Romance Languages with an art minor at the University of Oregon, and is finishing her MA in Art Education at UNM. Christy is drawn to Montessori for its intrinsic motivation. She thinks teaching children to find their own motivation/creativity is paramount to being an artist – or anything else!
Ms. Cristina Sessa
Elementary - Jr. El West
Ms. Cristina started working at Escuela in 1991. Currently the Junior Elementary West lead teacher, she was raised in the North Valley, received her BA in Education from UNM, and her AMS credentials from the Montessori Teacher Education Center San Francisco Bay Area. Cristina loves Montessori because it deepens one's understanding of the potential of children and their ability to help transform the world around them. This includes respect for each student so that every child feels safe, respected, and important as an individual.
Ms. Domenica Barile
Primary, Elementary & Jr. High Spanish
A native of Venezuela, Ms. Domenica has worked at Escuela since 2017.  She is passionate in sharing her Spanish and Italian culture and language through song, art and cooking.
Ms. Elizabeth Harris
Toddler - Extended Day
Ms. Elizabeth has been a teacher's assistant in Escuela's Primary program since 1986! She grew up in New York, New York, and received a BA in Education from UNM . Montessori gives Elizabeth the opportunity to witness children becoming independent, empathetic, creative-thinking, problem-solving, kind and loving individuals.
Ms. Emily Schuyler
Primary - White Room
White Room guide Emily Schuyler has been at Escuela since 2003.  She grew up in Kearney, Nebraska, received a BFA in Textile Design from the University of Kansas, and earned her AMI Primary credentials from Perugia, Italy.  Ms. Emily believes Montessori education offers real, daily opportunities to create a better world and practice life-long learning. 
Ms. Gretchen Vogelsberg
Primary - Red Room
Ms. Gretchen has been teaching since 1998, joining Escuela in 2006. She grew up in Brooklyn, NY, then Maine. She possesses a BA in Liberal Studies (Montessori concentration) from Endicott College. First earning her AMS Infant-Toddler credentials at the Montessori Education Center of the Rockies in Boulder, Gretchen later returned to earn Primary certification. Prior to working at Escuela, she spend two years working in a traditional private school before returning to Montessori secure in the knowledge that this is where she truly belongs. Gretchen also 'moonlights' in the office after school as a member of the administrative team and she volunteers on school accreditation/reaccreditation teams for AMS. Gretchen has twin daughters, Rhian and Dylan, who attended Montessori schools from ages 3 through fifth grade. Gretchen has owned several small businesses, is a licensed cosmetologist, and loves to travel.
Ms. Inga Tomlinson
Elementary - Jr. El East
Ms. Inga, Elementary Program Coordinator and Montessori guide, came to Escuela in 2004.  She grew up in Seattle, possesses an M.Ed from Loyola University, and AMI 6-12 credentials from the Washington Montessori Institute. Inga loves Montessori for its love of learning, deep study, child advocacy, and imagination of childhood.
Ms. Jolie Guiney Fletcher
Toddler - North
Ms. Jolie, Toddler South guide, has been with Escuela since…basically forever! Her mother taught here and she is an alumni. Jolie earned an Associate's in Science, holds a Pharmacy Tech degree, and gained AMS Infant/Toddler certification from the Montessori Teacher Education Center San Francisco Bay Area. She loves the freedom the children and teachers have to grow and foster learning.
Ms. Joy Maranze
Toddler - Extended Day
Toddler guide Ms. Joy joined Escuela in 1996. She grew up in Dayton, Ohio, received her M.Ed from Xavier University with a concentration in Montessori (ages 3-6), and earned her Infant/Toddler credentials from the Center for Montessori Teacher Education in New York. Joy loves Montessori because of the focus on the individual child and strong reliance on child development theory.  Ms. Joy also attended law school before she found Montessori, discovering her true passion.
Mr. Jonathan Rejent
Elementary - Jr. El West
Ms. Lisa Alessio
Primary - Extended Day
Ms. Lisa, is the Primary Extended Day Montessori guide.  She has been with Escuela since 1988!  Growing up in El Paso and Albuquerque, she received her Infant/Toddler and Primary certifications at the Montessori Education Center of the Rockies (MECR) in Boulder, Colorado.  Ms. Lisa was not a Montessori student herself but loves Montessori because of its philosophy – especially the three-year age grouping.
Ms. Lisa Pearl
Primary - Yellow Room
Ms. Lisa has worked at Escuela since 2002.  She is the Primary guide in the Yellow Room.  Lisa grew up on the coast of Maine and earned her Primary credentials at the San Diego Montessori Institute. She loves everything about Montessori.
Ms. Monica Chavez
Toddler - Extended Day
Monica Chavez, Toddler North guide, grew up in Albuquerque and has been with Escuela since 2005. She received Infant/Toddler certification from The Montessori Education Center of the Rockies (MECR) in Boulder, Colorado.
Ms. Rhian Small
Toddler - North
Rhian Small has officially been with us since 2011 (but began volunteering at Escuela events before that). She grew up and attended Montessori schools (age 3 through 5th grade) in both Maine and New Mexico.  Ms. Rhian holds a BS in Psychology from UNM and is AMI trained (Assistants to Infancy).
Ms. Rita Francois
Toddler - South
Rita Francois started working for Escuela as a Toddler teaching assistant in 1999. She grew up in Italy and received her Associates in Early Childhood from NMSU. Rita loves Montessori because each child can learn at his/her own pace.
Ms. Kimberly Mendez
Primary - Red Room
Mr. Casey Mráz
Music
Mr. Casey is an educator, composer, musician, playwright, and designer who grew up in Albuquerque. He earned an M.F.A. in dramatic writing from University of New Mexico in 2009, and studied literary arts in Prague, Czech Republic at Charles University. Mr. Casey is also a teaching artist with the Santa Fe Opera's ALTO Program (Active Learning Through Opera) and the Music Director for Circo Latino.  He most recently taught special education at Dolores Gonzales Elementary School.
Ms. Lisa Slavick
Jr. High - Applied Sciences & Farm Manager
As Junior High Urban Farm Manager/Applied Science Guide, Ms. Lisa oversees and maintains the cultivation of our small Urban Farm, which is an integral part of our thriving Montessori Adolescent program. She co-creates an integrated farm-based science curriculum; works side-by-side with students on business, engineering and design projects; identifies and develops community partnerships and service learning opportunities – and more. Ms. Lisa comes to us with nearly 20 years experience growing local edible ecosystems, including developing and implementing a K-8 school Garden and Environmental Education program. She holds a BA in Art and Level 2 licensure in Early Childhood Multicultural Education, K-8 Elementary Education, and K-12 Special Education. Ms. Lisa is Mom to two teenagers.
Ms. Joslynn De Herrera
Primary - Blue Room
Ms. Joslynn is an Albuquerque native who has been active in the Montessori community for over two decades. She received her Primary credentials from the Montessori Education Center of the Rockies (MECR).  She joined the Escuela team in 2018.
Mr. Wil MacNeil
Elementary - Extended Day
Mr. Wil started as a Montessori kid at Escuela Del Sol in 2002. During high school, he worked with the Harwood Art Camp as a junior guide and then as a guide. In 2017, Mr. Wil started as an Elementary Extended Day teacher. He attends the University of New Mexico and is pursuing a bachelor's degree in Linguistics with minors in Psychology and Honors! His favorite part of working at Escuela Del Sol is seeing how language develops as students grow, and seeing, firsthand, how language acquisition manifests.
Mr. Michael Chavez Liberman
Harwood Cafe - Lunch Program
Mr. Michael is one of Escuela's first elementary alumni students and is also a Montessori parent. He attended Boston College where he majored in History. He later became a sous chef at Beacon Hill Bistro, a fine dining restaurant. When he returned to Albuquerque, Mr. Michael worked as a line chef at Prairie Star, working his way up to Sous Chef. After leaving Prairie Star, he joined the FAA as an air traffic controller. Mr. Michael credits his foundation in Montessori education for his ability to work in complex, high-intensity professions, and for his curiosity about the world and his love of learning. He values his time at Escuela so much, that he brought his own children back to the community that felt like home.
Mr. Ramon Chavez
Harwood Cafe - Lunch Program
Mr. Ramon grew up on a small farm in the East Mountains. He joined the Harwood Art Center and Escuela staff in 2014, working as teacher support and as a guide for Harwood's Art & Sol after school art program. In 2015, he took over the Hardwood Cafe and school lunch program. Before working at Escuela, Mr. Ramon worked as a sub; a teachers' aide; and ran the lunch program and the summer camp at a local private school. He is fluent in American Sign Language and is our in-house animal expert. Mr. Ramon has a flock of parrots – including his scarlet macaw, Tango, who you might recognize from his frequent visits to campus – a tortoise and mini pig.
Ms. Savanah Cole
Elementary - Sr. El
Ms. Savanah has been a teacher at Escuela del Sol since 2010. She received her BS in Education from University of New Mexico. Her Lower Elementary AMS credential was acquired at the Houston Montessori Center with Dr. Betsy Coe, and her Upper Elementary AMS credential was earned at the Montessori Education Center of the Rockies in Boulder, CO. Savanah chose Montessori because it is brain-based, child-centered, and supported by current research in neuroscience. She absolutely loves teaching Senior Elementary and enjoys guiding the children to become dynamic problem solvers, life-long learners, and global citizens.
Ms. Brigette Robb
Primary - White
Ms. Brigette has over 10 years experience working with children in various settings.  She received her M.Ed. from Loyola University, in conjunction with her AMI Primary training from Montessori Northwest in Portland, Oregon. She also has a B.S. in Environmental Studies from Portland State University. Ms. Brigette came to Escuela in fall of 2019, not long after moving to Albuquerque, and worked as a substitute. Ms. Brigette is passionate about Montessori education, and in her free time enjoys plant and bird identification, and hiking in the wilderness.  
Mr. Jonathan Parks
Garden Guide
Mr. Jonathan has been with Escuela and Harwood since 2017 as a guide, a teacher, and now as our Garden Guide. Mr. Jonathan has a passion for the environment and desert landscapes. He holds an MFA in Studio Arts and a BFA in Painting. Originally from the Midwest, he has been living in New Mexico since 2010, and has worked at various educational organizations and not-for-profits promoting lifelong learning, accessibility in the arts, and supporting disability rights as a teaching artist.