Our circles keep everyone in the loop.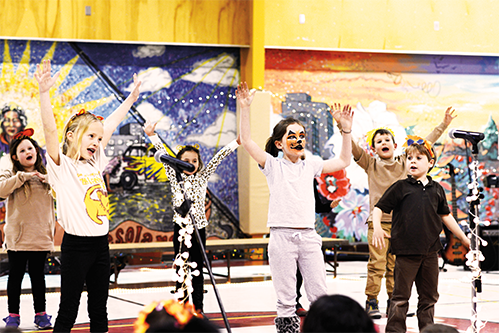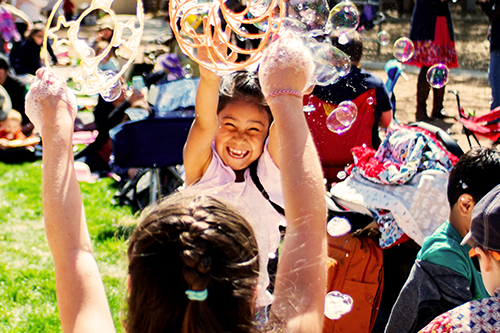 Escuela Shine started in 2016 as a fundraiser for the 6th Year Trip. During a cooking lesson, some lemon juice spilled on the counter and made a clean spot. That experience inspired the students to create cleaning products made with natural ingredients and sell them at school events.
The 6th Year Trip is designed to help students completing the Elementary Program to explore and experience the world outside our Montessori community. Students have taken trips to Portland, Ore., San Francisco, and Washington, D.C.
Cleaning Products
Laundry Detergent $8

Our laundry detergent is used in the clothing cleansing process. It works as well as store bought detergent.
Ingredients: Fels Naptha, Borax, washing soda, baking soda, oxygen bleach, fabric softener crystals, epsom salt, lavender essential oil

Wood Polish $8
Our Wood Polish is used to make any wood shine bright. It enriches the wood with a honey-colored sheen.

Ingredients: beeswax, olive oil, orange essential oil
Multi-Purpose Spray $6

Our Multi-Purpose Spray can be used for a range of surfaces. It gives surfaces a clean and fresh shine.

Ingredients: Vinegar, distilled water, orange essential oil
Scouring Scrub $6

Our Scouring Scrub is used for scrubbing hard surfaces like marble, sinks, hard-water stains, and it can even clean your mug.

Ingredients: Baking soda, sea salt, soda ash
Scrubby $5

Our scrubbies are homemade by students. They come in many colors, shapes and sizes. You can use these scrubbies for scrubbin off hard stains and doing dishes. They are colorful and soft.

Ingredients: polyester and cotton blend
Value Pack $25

Our Value Pack is a great way to get more for less! The Value Pack includes Laundry Detergent, Wood Polish, Multi-Purpose Spray and Scouring Scrub.
Gift Basket $40

Our Gift Basket are a great gift to give to friends and family. It includes Laundry Detergent, Wood Polish, Multi-Purpose Spray, Scouring Scrub and a hand-made Scrubby, and it comes in a reusable plastic bucket.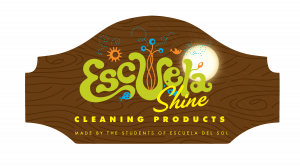 Click here to order Escuela Shine products online
Individual products are also available for purchase in the Harwood Cafe