Hard work is child's play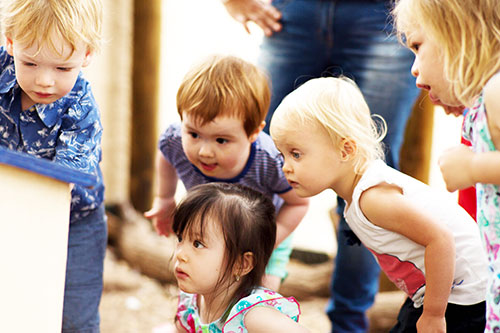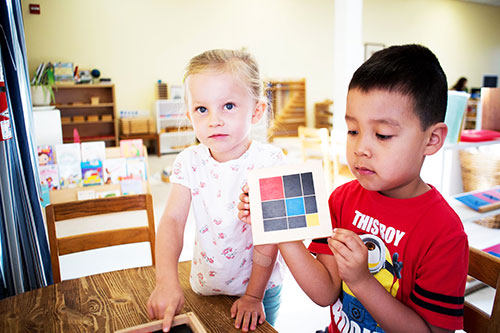 What is the Montessori Method?
Escuela del Sol's programs are based on the philosophy and methodology developed by Dr. Maria Montessori, who understood that all children have developmentally "sensitive periods" and particular needs at certain stages in their growth. At these times, and in a supported setting, they learn with the greatest ease, fueled by their own curiosity and abilities.
Our classrooms are specially designed for multi-age groups and provide a setting that encourages the development of a healthy social community. Our students are able to work both independently and with classmates, using materials that cultivate creative thought, self-discipline, care of others and of the environment. Music, physical education and Spanish lessons enhance the student's enjoyment of the world and provide avenues for self-expression and social interaction. Creativity flourishes in this atmosphere of acceptance and trust.
Lessons are introduced simply and concretely, following the child's interests, developmental readiness, and ability. The multi-age setting allows children to observe older students and learn from them; it allows older students to confirm their understanding and abilities by becoming role models and peer teachers for their younger friends.
What is Anti-Bias, Anti-Racist Education?
Montessori education, while providing many academic opportunities also specifically teaches how to exist in a rich and varied social group that addresses race, ethnicity, culture, gender, sexual orientation, physical & learning abilities, and economic class; purposefully encouraging and empowering children to take an active, problem-solving approach to explore and create strategies for improving social conditions of their communities.We know that this work is never done and it will continue with each passing school year, but it needs to be done as a community of people lifting one another up in hopes of new intellectual, emotional, and social development. At Escuela del Sol Montessori we are lifelong learners.
We take an informed, dynamic approach to education that works to identify and respond to discriminatory policies and practices in education. Our school community is founded upon Dr. Montessori's philosophy that education is the catalyst to peace.It is our role as members of this community to mindfully model and guide children to their roles in creating social justice and equity, providing educational experiences in which all students reach their full potential as learners.
Nurturing Language Development
Human beings are wired to connect. Communication continues to be a vital tool, and the development of language links inextricably with thought and ideas. Young children absorb languages effortlessly; they are sponges. The drive to communicate, to engage with others, to express needs and desires, is potent. Elementary-aged children delight in taking things apart to better understand how they work, and language is no exception. They experiment with the power of words, often eliciting strong reactions, and develop skills that allow them to access and share information in new and exciting ways. In early adolescence, the brain experiences incredible change second only to that which occurs between birth and age 3. Skills and concepts are revisited and applied in sophisticated new ways; language is an integral part of absolutely every area of adolescent life.
Language acquisition and development is nurtured in a wide variety of ways in every classroom at Escuela del Sol, from Toddlers to Jr. High. As human beings grow, their needs and abilities evolve; classroom environments, and the ways concepts are presented and explored also change. Our collaborative presentation about language across the levels offered parents a glimpse into the complex and sophisticated ways we support language development at Escuela del Sol Montessori. Read more…
Life After Escuela
When you imagine your child in high school, and even beyond, what are your hopes? What are important qualities and characteristics you hope they will possess?
A group of nine Escuela alumni representing seven different high schools, ranging from freshman to juniors, joined us for an unforgettable evening. Parents were able to glimpse some "products" of our toddler through Jr. High program.
Students talked about their transition from Montessori to more conventional schools, from a smaller community to a larger one. Homework and tests were discussed, as were social dynamics, problem solving, stress, and time management. Our alumni shared insights and appreciation about their current schools, as well as astute observations about differences they noticed about Montessori grads and their peers. And what really shined through was self-awareness and love of learning. "Inspired learning — it all started here!" Read more…
Resources for Parents
You might still have questions about Montessori education and how Escuela can help your child thrive. Here are some posts from our News blog that can help you to learn more about Montessori and Escuela del Sol Montessori School.