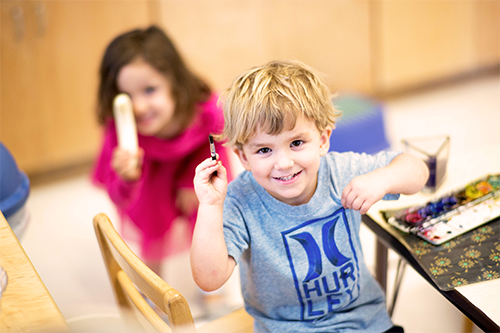 What is Montessori?
In contrast to memorize/recall or competitive teaching methods, Montessori is a positive, active approach to education that develops self-motivation, self-discipline and critical thinking.
What ages are students?
Escuela students range in age from 18 months to 14 years. Our classrooms are multi-age to promote healthy social development.
How do I apply?
Our admissions process is designed to help you learn about our curriculum, educational philosophy, and to determine if we are the community where your child and family can thrive.
How does Montessori work?
Montessori is Individualized and Developmentally Appropriate
Teaching is centered around a child's own interests and a child's own pace. Montessori classrooms introduce lessons simply and concretely, following a child's interests, developmental readiness and ability. Trained educators ensure the lessons are child-centered, developmentally appropriate, interactive, creative and academically challenging.
Why are classrooms multi-age?
Multi-age Classrooms Encourage Healthy Social Development
Escuela classrooms are specially designed for multi-age groups and provide a setting that encourages healthy social development. The multi-age setting allows children to observe older students and learn from them; it allows older students to confirm their understanding and abilities by becoming role models and peer teachers for their younger friends. Escuela students work both independently and with classmates, using materials that cultivate creative thought, self-discipline and care of others and of the environment.
How does Montessori prepare children for the future?
Creating Citizens of the World
Montessori education lays the groundwork for children to develop an understanding of the interdependence of all life and global citizenship. Escuela del Sol's student-driven learning environment takes students on real-world quests that integrate them deeply into their community and teach critical thinking skills.
The Incredible Benefits of Montessori