Hard work is child's play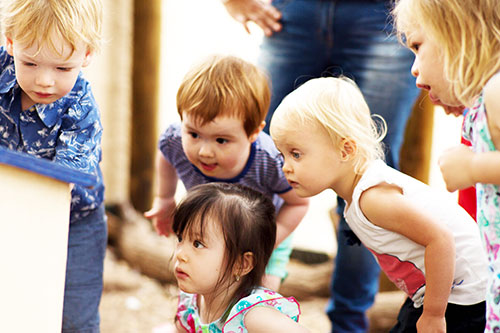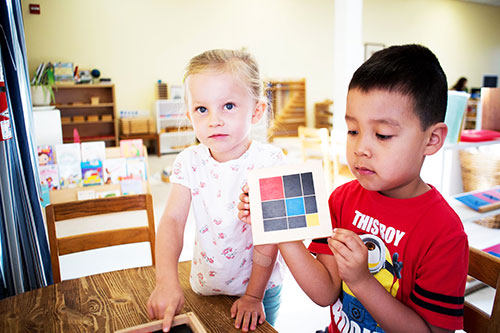 The Incredible Benefits of Montessori
There is a method to our gladness
Our approach is based on the philosophy and methodology developed by Dr. Maria Montessori – Italy's first female doctor – who confirmed through her research that in a supported setting, children learn best when fueled by their own curiosity and abilities. In contrast to memorize/recall or competitive teaching methods, this positive, active approach develops self-motivation, self-discipline and a true understanding of the abstract concepts that underscore critical thinking throughout life.
Compelling articles on the value of Montessori education to the future of our students and our society:
Montessori programs have brought up some of our world's most notable names:
Vice President Kamala Harris attended kindergarten at a Montessori school
Google founders Sergey Brin and Larry Page
Jeff Bezos, the financial analyst and founder of Amazon.com
Wikipedia founder Jimmy Wales
Chelsea Clinton, former first daughter and activist
Steph Curry, NBA basketball player
…and some incredible artists:
Anne Frank, famous diarist from World War II
Helen Hunt, Academy Award-winning actress
Joshua Bell, violinist
Gabriel Garcia Marquez, Nobel Prize winner for Literature

David Blaine, a magician as well as endurance artist and advocate of "street magic"

Yo-Yo Ma, cellist

Julia Child, chef
Other people of interest with a Montessori Connection:
Alexander Graham Bell (dec.), noted inventor, and his wife Mabel founded the Montessori Education Association in 1913. They also provided financial support directly to Dr. Montessori and helped establish the first Montessori class in Canada and one of the first in the United States.
Mister Rogers, children's TV personality, strong supporter of Montessori education.
Thomas Edison, noted scientist and inventor, helped found a Montessori school.
Margaret Wilson, President Woodrow Wilson's daughter, trained as a Montessori teacher. There was a Montessori classroom in the basement of the White House during Wilson's presidency.
Montessori vs. Conventional Methods
1st – 3rd Grade
Emphasis on free choice, initiative
Teacher assists and guides
Learning materials are self-correcting
Learning materials are hands-on
Student can go as far as capable
Moving from independent work to group work
Emphasis on independence
Emphasis on following directions
Teacher gives information
Learning is corrected by teacher
Learning materials paper and pencil
Student stays at pace with class
Moving from group play to group instruction
Emphasis on compliance
Emphasis on guided choice, collaboration and initiative
Teacher gives comprehensive lesson and assigns long projects without grades
Students keep individual work journals
Learning materials hands-on and developed for groups
Emphasis on seat work and individual achievement
Teacher gives daily bits of instruction followed up with homework and grades
Teachers keep track of progress
Learning material in workbooks, worksheets, and individual work
Emphasis on self-responsibility to manage multiple work projects to completion
Teacher assists with critiquing and student assessment of work
Emphasis on continuous improvement
Student can move beyond grade level individually
Emphasis on completion of classwork and homework assigned by teacher
Teacher assists with preparation for testing
Emphasis on grades
Students grouped by ability