My family was excited to be able to spend part of July in Spain. We wandered narrow old streets playing tourist and EATING. Along the way, we found a few threads that tied everywhere we went together: Iberico ham, tapas, sangria, and, of course, paella.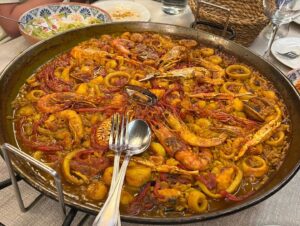 The smells permeated every street and alley, buildings old and new, even the gift shops. These memories of Madrid have made me particularly excited about this week's International Day meal.
Paella is widely considered to be the national dish of Spain but originally refers to a regional dish made famous in the region of Valencia. It's named for the wide, shallow dish in which it's cooked.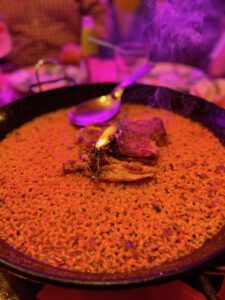 Paella is a great example of how the cultural history of a country can impact its modern cuisine. Rice was brought to the Iberian peninsula by
the Moors in the 10th century and quickly grew to be a regional staple using local ingredients. The cooking pan is heavily influenced by a Roman design from the region centuries earlier.
Valencians closer to the coast would use fish and shellfish while the farmers inland used a combination of rabbit, poultry, or snails. Both types are seasoned with saffron and rosemary giving paella its signature color and scent.
This Thursday, our children will be eating a vegetarian version of this classic dish. While we can't cook it outside over a roaring fire (and sadly, we aren't introducing the kids to snails!), but by using the traditional seasonings and some rosemary smoke we hope they enjoy this introduction to the flavors of Spain in their classrooms.
-Chef Michael Chavez Liberman