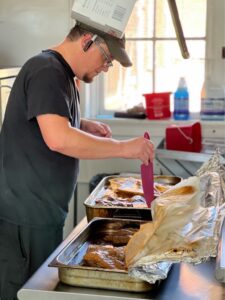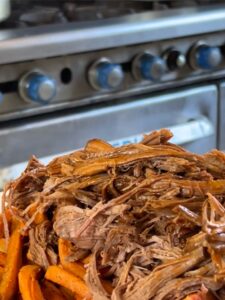 Today's Lunch from Around the World is Filipino Adobo. Filipino cuisine has a long and diverse history. From its indigenous beginnings – there were over 100 different groups spread among the islands of the archipelago! – to its colonial occupation by Spain and the U.S., its proximity to India, Indonesia, and Japan, and its part in the trade route with Mexico and China, Filipino cuisine has more varied influences than any other cuisine that we've tried so far!
Adobo is a preparation from the island of Luzon. Generally, it is a stewed dish using vinegar and soy sauce as its main flavorings. Ours used gluten-free tamari as a substitute for soy sauce. Ground achuete seeds (which we call achiote or anatto here in the southwest) were added for color and flavor. The beef was braised for six hours at 275 degrees.
Last year we served a Filipino Chicken Adobo, using tomatoes, vinegar, and peppers. But because the preparation originated in a different part of the Philippines, it was a completely different flavor profile.
We used beef for the stew (adobo) and served it with roasted carrots and potatoes. I would have preferred for the weather to be a little cooler for this dish, but I was too excited to introduce it to the kids to wait for winter!
-Chef Michael Chavez Liberman