The Escuela safety meeting held last Tuesday was very informative; I think I speak for all that were there when I say we learned a lot! Lead City officials took time from their very busy schedules to speak to our community of parents, artists and staff, as did one of our own Escuela parents. What follows is a brief overview of the event.
City Councilor Pat Davis, Lieutenant Ray Del Greco, Traffic Engineeering Director Timothy Brown and Professor Maryam Ahranjani joined our Executive Director, Friedje vanGils, our Assistant Head of School Elizabeth Marcilla and our Harwood Chief Programs Officer, Julia Mandeville to provide information and answer questions.
Councilor Davis and Lieutenant Del Greco gave some background on what our city has experienced in the past and what the current administration's goals are to address the problems of crime, homelessness and mental health issues. Lt. Del Greco is Captain of the Downtown area, so it was particularly great to have him here, knowing that he and his force are working in our neighborhood. The Lieutenant spoke about the change in policing approach (more relationship building and community based) and the move to address core issues via increasing services that are needed to prevent future problems. Councilor Davis presented a picture of the many needs facing our city. For example, in order to respond to the approximately 1500 calls per day that require police services, the city needs 1,050 officers plus another 200 to do proactive work in the community. Currently we are about three-quarters of the way toward getting all the officers we need; the administration hopes to fill the gap by 2020.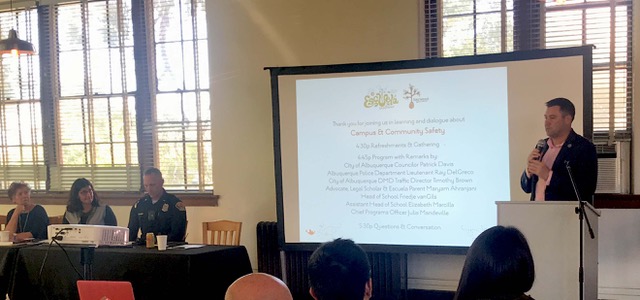 City Councilor Pat Davis gave some background on what our city has experienced in the past and what the current administration's goals are to address the problems of crime, homelessness and mental health issues.
Members of the Escuela community have voiced concerns over traffic at the corner of Granite and Seventh Street, right where our parking lot exit is, where families cross to go to their parked cars, or walk from the neighborhood to Escuela. As most families have noticed, the City has installed a crosswalk and signs in response to our concerns. Mr. Timothy Brown, Traffic Engineering Division Director, gave some interesting insights into the processes and policies that guide decisions on traffic signage, lights, etc. One of the features many parents and staff of the school would like to see is an official "school zone," complete with flashing lights. Unfortunately, that will not happen because per City policy, we do not have anywhere near the amount of traffic needed, and the majority of students do not walk in to school on their own without a parent escort; two factors that determine installation. Mr. Brown and Councilor Davis did, however, promise to continue to work with us on other avenues we could pursue as we continue to work on traffic safety. Be on the lookout for articles in the e-news for what we can do and where we need to work together as a community to make changes.
While this community safety meeting was planned months in advance (many thanks to Ms. Julia Mandeville for reaching out and scheduling our City officials!), the timing could not have been better given the recent incident in our parking lot. I am referring, or course, to the man who exposed himself at the playground fence — and who was apprehended and put in police custody in a matter of minutes.
As a result of this incident, I received many emails from you, our parent community. Most were supportive, some offered great suggestions, all were very much appreciated. One email in particular caught my attention, so I asked that parent, Professor Maryam Ahranjani, to speak at the meeting.
Ms. Ahranjani is a professor of law and a recognized expert, researcher and writer on issues of safety in educational environments. Ms. Ahranjani shared a traumatic experience she had as an eleven- year-old when there was a school shooting at her Chicago elementary school. Her interest in school safety and the law stems in part from this experience. She recently published a paper on the "Prisonization of America's Public Schools" and has written a book and other articles. She can be reached via Escuela for anyone who would like copies of her work or some discussion about her research.
At the meeting I gave a quick run-down of the systems Escuela del Sol has in place to help ensure the safety of our immediate school community. These include:
An electronic lock-down system: at the push of a button many of the doors into buildings can be locked automatically.
A speaker system connected to the telephone system that can alert everyone on campus. Additional speakers are in hallways and outdoors. We use this system for a variety of safety drills; they are available for emergencies as well.
Entrance to the campus is limited to 4 points. The main entry, through the front doors of the Harwood building, is always locked and is monitored by an employee.
Cameras are strategically situated throughout the campus to allow monitoring of activity.
Facility maintenance personnel also serve as security. This team consists of 4 men who are all over the campus and in various building locations throughout the day.
This maintenance / security team is always reachable via walkie-talkies and/or cell phones. In fact, it was our facilities manager who immediately ran last Friday's intruder off the grounds and stayed with him until APD had him in handcuffs in a matter of minutes.
Drills are a part of monthly activity, primarily fire drills; we do occasional lock-down and shelter-in-place drills as well.
Traffic safety: 3 – 5 employees are available every morning to ensure safe student drop-off.
The fencing around the campus was recently heightened to make it more difficult to gain entry (and painful, as well!).
The school recently participated in radon testing as well as lead testing of the drinking water, with an all clear for both.
Evaluating the physical safety of our campus remains an on-going process. We want to emphasize that safety is a collaborative effort involving the whole community. For this reason we often remind the families, employees, artists and others who use our facilities of the following:
Please don't open the gates / doors for someone you don't know. If someone wanting entrance does not know the code, he or she can buzz the office via the speakers at the south blue gate.
Visitors are asked to enter via the Harwood front doors.
Say hello and make eye contact with people you don't know.
Your collaboration and support will help keep our children and everyone else for whom our campus is home-base, safe and secure. We know that homelessness and mental health issues are wounds in our community that must be addressed collectively.
Escuela del Sol's deepest commitment is to cultivating an environment that is safe and generative. The physical, emotional and mental safety of our school community is integral to our mission.