Jerk is probably the most famous style of cooking from Jamaica, and one of the defining styles of Caribbean cuisine as a whole.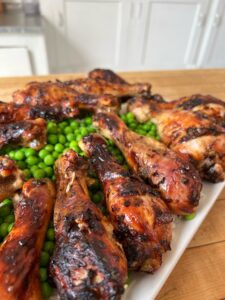 Its roots are with the indigenous Taińo people of Jamaica. When Spanish enslaved people escaped during an invasion by the English, they fled into the countryside and established free communities. Over time they mingled with the Taińo and their decedents.
Heavily seasoned wild boar, marinated and cooked over native wood, was the original jerked meat. The scotch bonnet peppers add the heat, allspice provides the flavor, and grilling adds the smoke in modern versions. Today, we've substituted chicken for wild boar.
This week's jerk is very mild for tiny taste buds, with only a slight hint of heat, and a touch more sweetness than you'll find in restaurants. Jerk flavors are typically spicy, so if you ever take your kids out to eat and they want jerk chicken… beware!
-Chef Michael Chavez Liberman